Rabbi Toba August is the founding Rabbi of Lev Eisha. This vibrant congregation is a joyful community where, for over 13 years, women of all ages and affiliations have joined together in prayer, song, dance, and study.
Rabbi August has been an inspiring leader, teacher and guide for women throughout the greater Los Angeles area, and with Cindy Paley has brought the Lev Eisha service to other cities in the United States. Touching the hearts, minds and souls of women, Rabbi August knows her presence and devotion to Lev Eisha is truly a gift and a labor of love.
Rabbi August is also both the rabbi of Temple Shalom of the South Bay in Hermosa Beach, and of Makom Ohr Shalom in Los Angeles. Additionally, she has been an instructor for the past 10 years at the Academy of Jewish Religion where she is on the core faculty teaching Bible and Rabbinic texts. Rabbi August received her ordination from the Jewish Theological Seminary in New York, and was in the first class ordaining women as rabbis.
In addition to rabbinic ordination, she holds a Masters degree in Education and Reading and for many years has worked as an educator. She is married to Alan Klein and lives in Los Angeles.

Cindy Paley Aboody is the "musical soul" of Lev Eisha. As the cantorial soloist she brings her "ruach" – spirit, her warm personality, and her distinctive passionate voice to our Saturday morning service. Her appreciation of traditional melodies combined with her enthusiasm to share beautiful new music inspires and encourages active participation from all attending our lively Shabbat service.  A local Valley girl, Cindy is well known for bringing the joys of Jewish music to children and families across America through her performances and CDs.  Cindy's ear for music and foreign languages led her to a career as a French teacher, receiving her B.A. and Teaching Credential from UCLA. Her family's involvement at the Valley Cities Jewish Community Center and the Valley Kindershule in Sherman Oaks opened a door to her true calling. It was there that she learned guitar and had her first introduction to the Yiddish 'mame-loshen' and the richness of her Eastern European heritage. She was chosen as the Camp JCA song leader both at summer camp and for their Teen Israel Trip. These positions were instrumental in Cindy's eventual choice to become a Jewish Music Educator, cantorial soloist and performer. With eight recordings to her credit, Cindy has provided musical tools for teachers, families and children that enrich lives and insure that our heritage will continue. See her at her website: http://www.cindypaley.com



Cantor Melanie Fine is a graduate of the Cantorial School at JTS-NY.  She has served as a congregational cantor, and along the way has trained thousands to chant Torah, Haftorah, daven and more!  Cantor Fine and her son Max recently moved to Santa Monica where she teaches chemistry at Santa Monica High School.  We are very fortunate Cantor Fine has chosen to bring her passion for sacred music and Torah to Lev Eisha.  Please join us in welcoming her to our community!


Robin Winston, cantorial assistant, was graduated from UCLA with B.A. in Linguistics & Psychology, then earned teaching credentials from CSUN. She currently teaches 4th grade in LAUSD. Robin was on the original organizing committee that arranged the first Lev Eisha services and has served on Lev Eisha Board in various capacities since its inception. She has been the cantorial soloist for High Holidays services at the Laugh Factory for several years.
Joy Krauthammer, MBA, "Serves G*d In Joy" as a spiritual percussionist since 1990, and supports Lev Eisha since 2001. A classically trained musician, Joy ecstatically plays world-music ethnic hand drums including djembe, dumbek, frame drums, and more. Playing crystal and Tibetan singing bowls, Joy is a vessel for sharing a serene symphony of vibrational healing sounds that reverberate through one's body for meditation, relaxation, and transcenDance. Sounds of Joy open energy channels for flowing abunDance of joy, love, unity, harmony, peace, prayer, and blesSings. Conscious connection of wholeness, healing, and Oneness in the Four Worlds of Spirit, Mind, Heart and Body, is Joy's musical kavannah / intention. Teaching Torah and Kabbalah for life-cycles, and seasons, add to her writing and arts passions. Publisher of JOYous Chai Lights for last 3 decades, Joy continues to serve spiritual community as photographer, and her images adorn organizations' websites. Joy's personal sites include: http://joys-music.blogspot.com  and  http://joys-art.blogspot.com

Chaplin Ruth Belonsky, violinist, received her certificate in Jewish Chaplaincy and Masters in Jewish Studies from Academy for Jewish Religion in 2006. She is employed as a Jewish and Interfaith Chaplain by Providence Little Company of Mary Medical Center in Torrance, CA, primarily working with patients and families in the Intensive Care Unit. She also brings Jewish Holiday services to the Hospital for Doctors, staff and patients.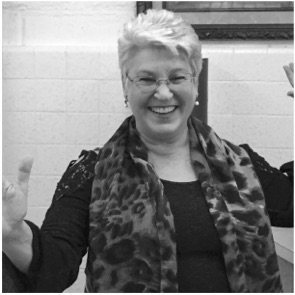 Sharon Alexander has spent more than 30 years at the forefront of the Jewish Renewal movement: as a choir leader, community organizer, teacher, vocalist, and visionary. Since 2003 she has been researching the ecstatic structure of the Jewish service and the ecstasy-evoking techniques behind African-American gospel choir, and then teaching these secrets to Jewish groups around the world. For this work, she received s'micha from Reb Zalman as Ba'alat Shirei Hama'alot B'chesed Elyon (Mistress of Songs of Ascension to the Celestial Realm of Divine Love). She first began leading Shir Ecstasy Jospel Choirs at the Aleph Kallah back in 2005, where they have now become a beloved tradition. You can see video examples of her Shir Ecstasy choirs performing on her website: www.ShirEcstasy.com or on her Facebook page: Shir Ecstasy Jospel / Jewbilation. The high point of her month is singing on the bimah with Cindy and Robin at Lev Eisha services.


Sarah Barash joined Lev Eisha about eight years ago and did readings in English during the service.  It took Lev Eisha to help Sarah deepen her sense of Jewish identity as it helped her rediscover her passion for writing. After receiving her undergraduate and graduate degrees in her early fifties from Sarah Lawrence College she had little time to pursue writing. She then began to write and read her own prayers and was declared "our Poet in Residence" a few years ago. She is extremely honored.
Sarah has just completed a novel rooted in her love of Judaism, NOTHING TO BE ASHAMED OF, which is expected to be published in the near future. Married to Bob Barash for 49 years, she is the proud mother and grandmother of four children and five grandchildren. "My connection to Rabbi August and the women of Lev Eisha who have encouraged my work even as it deepens my faith has altered the trajectory of my life. I am deeply indebted." Formerly, Sarah Barash was a professional artist. She has a panoply of interests, her family being foremost.
Save
Save